Our Services
Dragon Boat Innovate has an array of fun team building activities and services to suit the different requirements of our clients. Ranging from a simple setup to events that are more complex and elaborate, we will have the operational network and experience to provide the necessary amount of professionalism and affirmation in our services, whether you're looking for some casual fun and entertainment or looking for an activity that encourages team building and development.
DRAGON BOATING IS NOT JUST A SPORT,
IT IS A LIFESTYLE!
Dragon Boat Innovate Introductory
Dragon Boat Innovate Corporate Teambuilding Activities
Dragon Boat Innovate Premium Events
Dragon Boat Innovate Other Activities
DRAGON BOAT INNOVATE INTRODUCTORY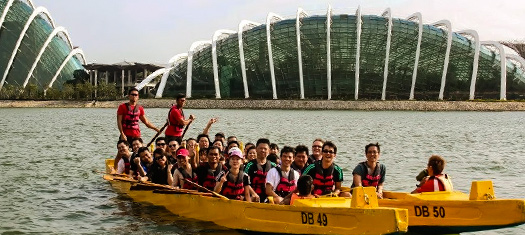 Casual and Fun Events
Come and experience a session of dragon boating in the simplest way possible. This is the perfect option to introduce you and your friends to the sport of dragon boating whether you're looking for something fun and casual or interested in an organised corporate event in Singapore designed to bring out the best in your staff.
Conducted by our team of bubbly Executive dBi Trainers, we design your experience to help you understand the thousand- year-old sport in just one session. You will learn how to hold a paddle, work on and carry out similar commands used by professional teams all over the world, paddle in a boat and even compete in a dragon boat race.
The dBi experience would be the best option if you are interested in trying out the sport of dragon boating for the first time. Be it a company retreat, a gathering for your social club(s) or just a group of friends wanting to have a great time, the 2.5 hour session will be full of fun, adrenaline and team-building experiences designed to bring your team closer to one another.
Corporate Team Building with Dragon Boat Innovate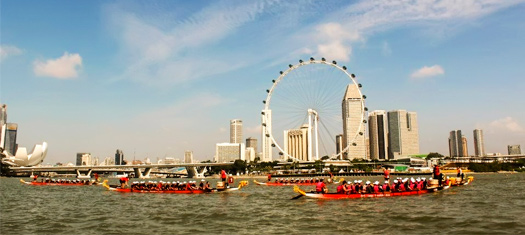 The Bespoke Option
The sport of dragon boat racing has always been in sync with team building and team work. At the heart of dragon boating is the concept of a group of individuals working together for a common goal. Hence, dragon boating as a team sport is a corporate event idea in Singapore often recommended by organisations to their staff. With dBi's close partnerships with corporate companies, conference groups, military divisions etc., we have the privilege to experience and understand the challenges faced by our partners today. We can translate our experience into an event that helps cultivate team spirit among the participants in a fun and engaging manner through our dragon boat training programmes.
The dBi Corporate Team Building clinic elevates its effectiveness by involving the participants through our array of training tools implemented both on and off shore. We will fashion and tailor-make our programmes to fit the needs of your organisation. If you want your staff to learn about the challenges an organisation faces or to share in the implementation of certain organisation strategies, this option would be the most suitable.
Our dBi consultant will sit down with representatives from your organisation beforehand to discuss your organisation structure, the needs of your organisation and to share in the goals of the programme. Our senior dBi Trainers will then incorporate these elements into this special bespoke programme and then execute it professionally. We will not only help your organisation bring the staff closer together, but through experiential learning, also bring outstanding, unmatched results.
DRAGON BOAT INNOVATE PREMIUM EVENTS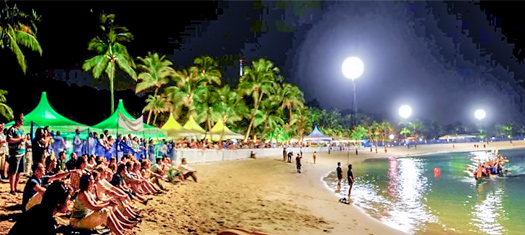 The Last Word in Corporate Events
This service will cater to the needs of our clients who desire to effect a difference in their corporate gathering programmes. We will be able to deliver a unique experience to your corporate event, with the thrill of dragon boat racing in a luxurious setting.
dBi Premium Events is a one-stop service provider for all your corporate event needs. Like any event management company, we can provide tentage, catering, transport, music etc… But our capability and experience to combine the world's fastest-growing water sport with our event management skills is literally how we are confident that we are the last word in corporate events.
The sky's the limit when it comes to displaying our creativity, and providing the best experience for our clients. We believe that when there is passion and motivation to only provide the best for our clients, we will become the forerunner in the industry in terms of what we do.
DRAGON BOAT INNOVATE OTHER ACTIVITIES
If you are thinking of taking your participants out of the country, drop us an email here.