About dBi
dBi's Credo
To make dragon boating the go-to team building activity in Singapore, our projects are approached with complete reliability and professionalism from each and every one of our dedicated team members. At dBi, we strongly believe in a strong and lasting relationship with each and every one of our clients. The premium service that we offer is what sets dBi apart from others.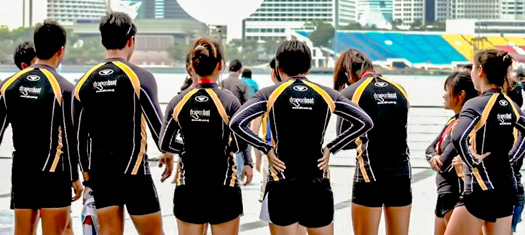 Company Profile
Our company is the brainchild of a decade of experience, passion and inspiration to elevate the sport of dragon boat racing socially and professionally.
We engage the unique and versatile platform of dragon boat racing for corporate companies to achieve their human resource and creative training objectives. Our aim is to make dragon boating the best team building activity in Singapore.
Other services we provide include introductory packages, corporate team building, as well as unique premium events.
Mission Statement
Our mission is to re-discover dragon boat racing. With our effort, we aim to make it prestigious, create a difference, and bring people together through the sport.
We bring our mission to life through our passion, our drive and our experience.
We paddle with a heart of one.
It is not just a sport, it is a Lifestyle!
Join us in conducting the best team building activities in Singapore!
Join Our Team
At Dragon Boat Innovate (dBi) we organize the best team building events utilizing the platform of dragon boating. We offer an enjoyable and rewarding working environment with a strong dedication towards customer service as well as many ongoing learning and opportunities for advancement. We empower our staff to take ownership of their aspects of the business, placing a strong emphasis on creativity and autonomous decision making.
As a company, we are dedicated to attracting the best people, who not only enjoy working as a part of a team and thrive in a fast paced environment, but, also those who are enthusiastic about the sports events industry, and in particular, dragon boating in Singapore.
At Dragon Boat Innovate (dBi), you'll enjoy benefits including flexible working arrangements, international work opportunities, competitive salary and on-going career development and training.
In return, we are looking for hardworking, enthusiastic, and reliable staff, as well as individuals who exhibit their passion and expertise as we connect with our clients through our services while helping to integrate the sport of dragon boating into their lives.
Be a part of our team responsible for making dragon boating the best team building activity in Singapore! Change the way our clients work, play, and communicate in their working environment!
We're currently recruiting for various roles and have job opportunities available in the following areas:
Sports Business Executive: Your primary role is to assist Business Director in the process of sports business development.
Email us at career@dbi.com.sg with the subject line "Opportunities at dBi" and indicate which role you are interested in. Please attach your C.V. and include details of your past working experience.
Foreigners & undergraduates are welcomed.
Individuals with little / no experience but has a keen sense of learning are more than welcomed to apply.
We look forward to hearing from you!